Fondée en 1991, la société de Lindstrand est spécialisée dans la fabrication de montgolfières.
Les dirigeables Lindstrand sont de grands volumes, ils sont utilisés pour l'exploration de la canopée ( opérations " radeaux des cimes " à travers le monde ).
HS 110 3125 m3
HS 300 8 500 m3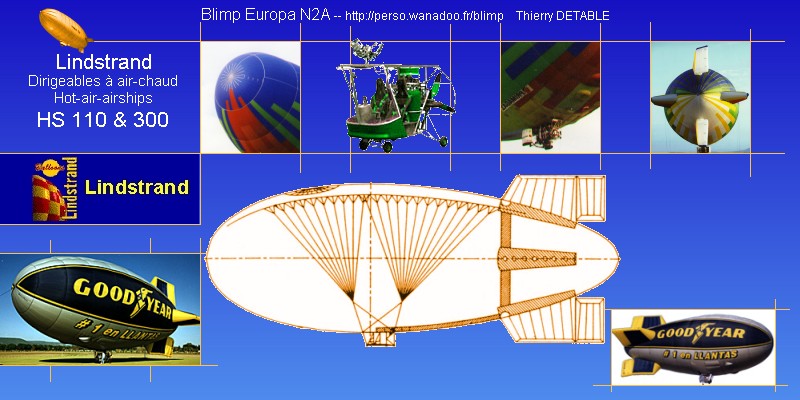 Based in 1991, Lindstrand's company is specialized in the manufacture of hot-air balloons.
Airship Lindstrand is big volumes, they are used for the investigation of the canopée ( operations " rafts of tops " worldwide).
HS 110 110 350 cu ft
HS 300 300 000 cu ft
Dirigeable type / Technical statistics : Lindstrand HS 110 & HS 300
Dimensions /Overall :
Overall :
Type
HS 110
HS 300
type
HS 110
HS 300
Longueur :
34 m
53 m
Lenght :
111 ft
174 ft
Hauteur :
nc
nc
Height :
nc
nc
Largeur :
13.2 m
47.8 m
Width :
43 ft
156 ft
Volume :
3 125 m3
8 500 m3
Volume :
110 000 cu ft
300 000 cu ft
Longueur ( cabine )
nc
nc
Gondola lenght :
nc
nc
Nbr de places :
nc
nc
Seating :
nc
nc
Moteurs :
nc
nc
Engines :
nc
nc
Puissance moteurs :
nc
nc
Power :
nc
nc
Vitesse maxi :
37 km/h
nc
Maximun speed :
37 km/h
nc
Gouvernails :
" + "
" + "
Empennage ( tail ) :
" + "
" + "
Enveloppe :
nc
nc
Enveloppe :
nc
nc