Basée en République Tchèque la société Kubicek Balloons.
Le dirigeable à air-chaud AV 2 a effectué son 1 er vol le 26 Mai 1999.
Ce dirigeable très aérodynamique a concouru au dernier championnat du monde de dirigeables à air-chaud en Septembre 2000 au Autriche.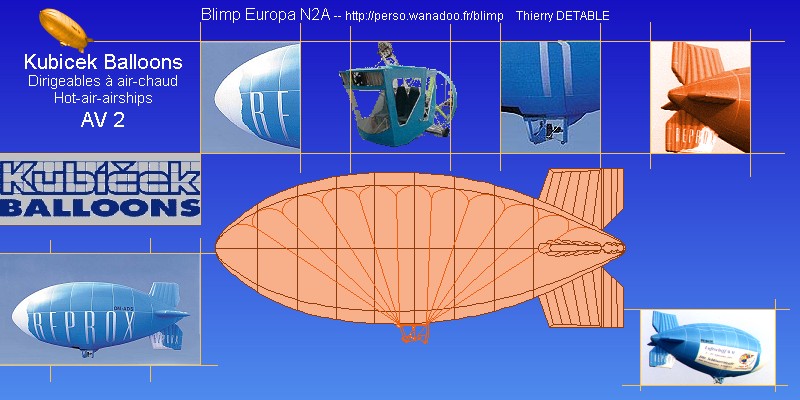 Based in Czech Republic the Kubicek Balloons company.
The hot-air-airship AV 2 made sound 1 er flight on May 26, 1999.
This very aerodynamic airship contributed to the last world championship of hot-air-airships in September, 2000 in Austria.
Dirigeable type / Technical statistics : Kubicek Balloons AV 2
Dimensions /Overall :
Overall :
Longueur :
38 m
Lenght :
123 ft
Hauteur :
nc
Height :
nc
Largeur :
14.2 m
Width :
46.3 ft
Volume :
3 500 m3
Volume :
123 000 cu ft
Longueur ( cabine )
nc
Gondola lenght :
nc
Nbr de places :
3
Seating :
3
Moteurs :
1 Rotax
Engines :
1 Rotax
Puissance moteurs :
nc
Power :
nc
Vitesse maxi :
20 km/h
Maximun speed :
20 km/h
Gouvernails :
" + "
Empennage ( tail ) :
" + "
Enveloppe :
nc
Enveloppe :
nc