La société Cameron Balloons est spécialisée dans la fabrication de montgolfières.
En 1972 Cameron Balloons invente le dirigeable à air-chaud, de forme fuselé une dérive est situé à l'arrière de l'enveloppe ( à l'époque l'enveloppe n'est pas pressurisée ), une nacelle en osier avec un moteur WolksWagen de 1600 cc.
Le premier vol le 4 Janvier 1973, Le premier dirigeable à air-chaud au monde de série Cameron D 96.
Depuis 4 générations de dirigeables à air-chaud ont vu le jour.
La série actuelle DP 80 & 90, les enveloppes et dérives sont pressurisés.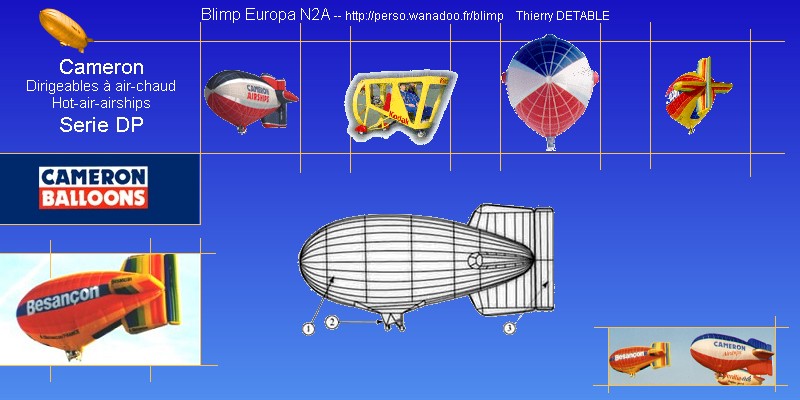 1 : Enveloppe 2 : Nacelle / Gondola 3 : Gouvernails / Rudders
The Cameron Balloons company is specialized in the manufacture of hot-air balloons.
In 1972 Cameron Balloons invents the hot-air-airship, of shape slender a rudder is situated behind with the envelope (at the time the envelope is not pressurized ), a nacelle in wicker with an engine WolksWagen of 1600 cc.
First flight on January 4, 1973, first hot-air-airship in the world of series Cameron D 96.
Since 4 generations of hot-air-airship were born.
Current series DP 80 and 90, envelopes and drift are pressurized.
Dirigeable type / Technical statistics : Cameron Balloons DP 80 & 90
Dimensions /Overall :
Overall :
Type
DP 80
DP 90
type
DP 80
DP 90
Longueur :
33 m
35 m
Lenght :
111
115
Hauteur :
15.20 m
15.5 m
Height :
50
51
Largeur :
12.3 m
12.8 m
Width :
40
42
Volume :
2 250 m3
2550 m3
Volume :
80 000 cu ft
90 000 cu ft
Longueur ( cabine )
nc
nc
Gondola lenght :
nc
nc
Nbr de places :
2
2
Seating :
2
2
Moteurs :
1 Rotax
1 Rotax
Engines :
1 Rotax
1 Rotax
Puissance moteurs :
582 cc
582 cc
Power :
582 cc
582 cc
Vitesse maxi :
nc
nc
Maximun speed :
nc
nc
Gouvernails :
" + "
" + "
Empennage ( tail ) :
" + "
" + "
Enveloppe :
nc
nc
Enveloppe :
nc
nc